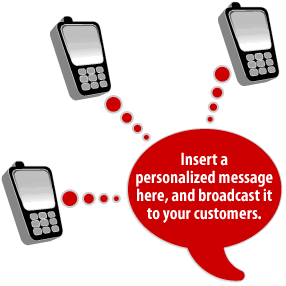 Newsflash: we are living in a tech-savvy world. The number of texts, emails and instant messages that fly through our planet on a daily basis is practically uncountable. Naturally, in today's business world, keeping in touch with your colleagues and clients is more important than ever. With the amount of messages that one receives in a day, business owners need to work harder to ensure that their messages are prioritized.
MeloTel is excited to announce a brand new feature that will ensure its clients that their messages get received and more importantly, read! We now offer Short Message Services! Also known as SMS, this incredible form of communication allows our clients to communicate with their customers in a creative, personal and non-intrusive way. And best of all, these messages generate greater responses.
Taking on the form of a mass text message, your SMS service will help you to send instant time-sensitive alerts to your mobile subscribers. This helps to drive more traffic back to you, creating higher conversion rates. Statistics have shown that SMS messages generate a 17 per cent conversion rate. Compare that to emails, which often provide an average of less than 10 per cent conversion.
And print ads? Forget about it. On average, a print piece will turn around about one per cent of the people who read them. Short Message Services provide business owners with a very cost-efficient and sensible method of increasing sales. With SMS, you can send 1 or 100,00 messages with a single click of a button. And there are a variety of things you can do with your message.
The possibilities are practically endless. You can schedule reminders about special sales, send mobile coupons or market your new products and services. Inform your clients about your holiday hours, tell them about upcoming events and generate new leads. Remind them of payments that are soon due or offer them entry into a contest that you're running.
Customers, by the way, are also given the option of texting back, so your SMS messages also provide quick and easy ways for your clients to communicate with you. This type of communication has been proven to work as it initiates direct links between your business and its clients. There is plenty of evidence to show that that type of marketing is effective.
Stats have also shown that a whopping 98 per cent of all SMS messages are read within the first 15 minutes of being received. With emails and traditional mail, you often have to wait days, if not hours, for the recipient to open them. As always, this brand new MeloTel feature is being offered at an incredibly affordable rate. Pay-as-you-go pricing is only 15 cents per outgoing message and 7 cents for each incoming message.
With Short Message Services, MeloTel is proudly bringing its customers a new and inventive way to reach out to their client bases. Businesses can better reach their goals if they can better reach their customers. Reach out to MeloTel and sign up for your SMS services today. Give us a call at 1-888-MELOTEL!