The team, here at MeloTel, continues to pride itself on being on the cutting edge of telecom technology. In the world of telecom solutions, we feel confident that our cloud-hosted Commercial Phone Services simply can't be beat. But we're delighted to announce that we've taken our phone services to the next level. If you're already taking advantage of them, you'll be pretty excited to hear about our latest innovation!
MeloTel is proud to announce the release of our new SIP Cloud Softphone for Android and iPhone users. Cloud Softphone is a SIP-based phone app that uses either a Wi-Fi or cellular data network connection to make and receive calls using your MeloTel account. Once the app is hooked into your MeloTel phone system, you can begin to make calls using your company caller ID. It will also allow you to reach coworkers with extension to extension dialing.
However, arguably the greatest aspect of the SIP Cloud Softphone is its ability to allow you to make calls on your cell phone without using your cell phone's minutes. It works no differently than if you were to use your standard business telephone to make and take phone calls. The new SIP Cloud Softphone makes keeping in touch with your clients, colleagues and co-workers so much easier!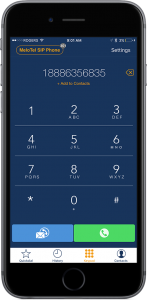 What are some of the top benefits of the SIP Cloud Softphone? As you can expect with MeloTel's Commercial Phone Services, the SIP-based Softphone is highly secure and provides exceptional voice quality. It works on your smartphone using Wi-Fi, LTE or any other high-speed internet connection that is made available to you worldwide. As well, the app doesn't need to be kept open at all times as push notifications will alert you to incoming calls.
The MeloTel SIP Cloud Softphone is also fully integrated to iPhone calling so that you won't have any dropped calls when they are received from your native phone line. In fact, it works very much the same as your standard phone in that it maintains such features as call display, speakerphone, voicemail indicators, mute and hold functions, volume control and call history displays.
The app also works with Bluetooth technology so that you can connect to such outlets as your car speakers in order to have hands-free conversations while driving. With SIP Cloud Softphone, you can also swap between two active calls, merge and split calls and transfer calls. In other words, with this innovative new app, you're pretty much setting up your business phone on your smartphone for no extra cost!
That's right! If you have unlimited service with MeloTel, you may register your extension to the app for FREE! If you don't have unlimited service, but you do use the Single Number Reach feature with MeloTel, you may upgrade your plan to include unlimited outgoing calling for just $10 a month. That way, you will have complete and unlimited access to the SIP Cloud Softphone app as well.
For more information about our new SIP Cloud Softphone, please don't hesitate to contact us at 1-888-MELOTEL or use the Live Chat feature on our website!