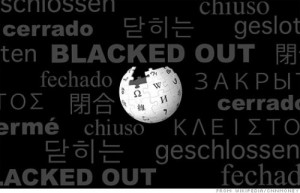 Today, if you attempt to log on to Wikipedia – the widely-used online encyclopedia that can be edited by just about anyone – you won't be able to look up the information that you may be used to getting. Reported by Yinka Adegoke of Reuters yesterday, Wikipedia is protesting a United States anti-piracy legislation known as the Stop Online Piracy Act (SOPA).
According to Wikipedia's page describing it, "the bill, if made law, would expand the ability of U.S. law enforcement and copyright holders to fight online trafficking in copyrighted intellectual property and counterfeit goods." Wikipedia also started its 24-hour blackout of its English-language website today to protest Protect Intellectual Property Act (PIPA).
Believing that bills such as these threaten investments made to sites such as Wikipedia, Facebook and Google, Wikipedia founder Jimmy Wales is hoping to get the support of the 25 million or so daily visitors to his website. He hopes they will let Washington know that they are opposed to such bills. The acts wish to block access to foreign sites that may be offering pirated material such as movies and music for free.
To have a little fun with this subject, we figured we could turn the MeloTel website into your go-to stop for information today – as we mentioned, Wikipedia will be down for 24 hours. Since MeloTel has already become your one-stop shop for VoIP services, website domains, blogging and other services, why not add Melopedia to the list?
What's Melopedia, you ask? Well, people tend to go to Wikipedia quite often to research information on just about anyone and anything. So Melopedia (for today only) is your one-stop website for all things that define MeloTel. You want the definitions for what makes a company worth working with? Well, here they are:
Innovative. What other company do you know that is run by a president who moonlights as a voice actor, hip-hop artist, Christmas music singer, music video character and philanthropist? MeloTel President, John Meloche represents MeloTel's commitment to innovation. Thinking outside of the box in order to "wow" customers is what MeloTel is all about.
Dedication. Going all out to satisfy customers is the name of the game around here. MeloTel's service guarantee represents the company's refusal to leave any customer with a sense of unhappiness. Making it our mission to deliver excellent products and services 100 per cent of the time is what makes MeloTel a cut above its competition.
Reliability. If you need us, we are there. Because we are a smaller company than the big name telecom companies, we are able to provide more personalized service to our clients. That means that our customers come first. We never make them jump through hoops to talk to us or get the service they need. It's our job to make them feel valued after every encounter.