On behalf of the entire MeloTel team, we would like to thank each and every one of you who donated to John's Birthday Fundraiser. As we blogged about all of last week, MeloTel's Founder and CEO turned the big 4-0 yesterday. In celebration of his milestone birthday, John has invited friends and family members to donate to WETRA.
The fundraiser, which is being hosted by Facebook, was originally set at a $1000 goal. John promised to match each donation, dollar for dollar, up to $1000 in hopes to make a minimum $2000 contribution to WETRA. We're elated to inform you that, thanks to the generosity of so many wonderful people, John has exceeded his goal!
John has now set a new goal!
With the help of John following through on his promise to match all donations up to $1000, as of this writing, a total of $2290 has been raised. John was so excited about exceeding his target that he set a new one on his birthday. The new goal is $3000 and you still have another week to contribute to this fantastic cause.
To remind you, WETRA stands for Windsor-Essex Therapeutic Riding Association. It's a fantastic organization that provides the use of therapy horses to children and adults who contend with mental, emotional and/or physical challenges.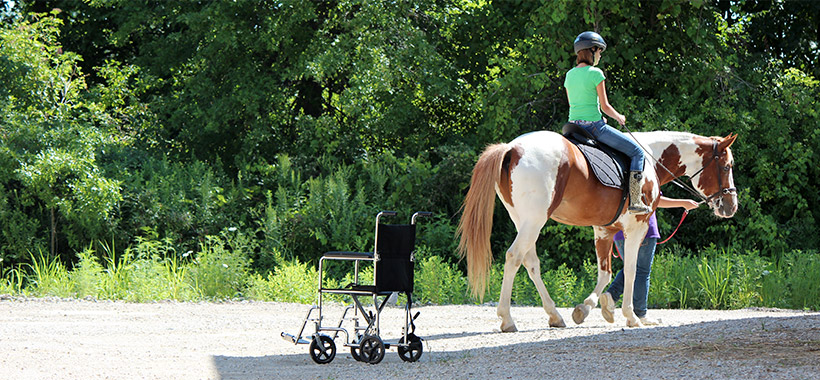 "Therapeutic riding is an alternative form of therapy using horses to help persons with various disabilities," explains the WETRA website, "Activities involving the horse can be used to assist people with disabilities in achieving physical and mental health, and cognitive, behavioural, social and communication goals. In this context, a team approach involving therapeutic riding Instructors, health professionals and riders who have disabilities, is used in designing and implementing the riding sessions."
John had a wonderful birthday celebration this past weekend!
Although John is so adamant about raising money for WETRA and offering support to worthy causes in general, it's not like the big man doesn't know how to throw a big party. This past Saturday, John and his lovely wife, Kathryn invited friends and family over to their home in order to celebrate John's beginning of a new decade of life. It was a full house affair that welcomed people of all ages.
"I am so blessed to have such a wonderful family and friends at 40 years old," John wrote on his Facebook page the night of the party, "Thank you so much for all 70 that showed up tonight. It really was the best birthday celebration I could have ever imagined."
Help John to reach his new goal!
As you know, the celebration continues. While John's 40th birthday has officially come and gone, his desire to support WETRA continues. Donating is easy. Simply visit John's Birthday Fundraiser on Facebook and click the "Donate" button. You can rest assure that your generosity with go a long way in helping those with physical, mental and emotional challenges.
As WETRA's website informs us, "the physical, emotional, cognitive, and social benefits of therapeutic riding are all encompassing for riders, volunteers, and family members that are involved in the specialized and meaningful programs offered at the Windsor-Essex Therapeutic Riding Association (WETRA)."