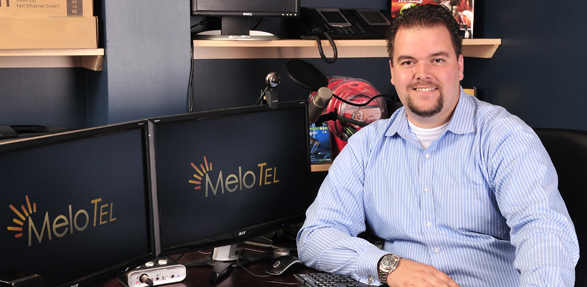 This weekend marks a very special occasion in the world of MeloTel. Our company founder and President John Meloche turns the big 33! Can you believe it? Still at such a young and tender age and yet he exudes a sense of experience and professionalism well beyond his years – if we do say so, ourselves.
We'd like to take this opportunity to wish John a very happy birthday. Knowing him, he'll be partying it up hard with friends and family this weekend – and in all likelihood, be the life of the party. Don't get us wrong. It doesn't take John's birthday for him to be the life of the party. He loves just about any opportunity to have a good time.
And to be honest, having a good time in John's eyes is ensuring that everyone around him is enjoying themselves. Never one to put himself above the greater good of his colleagues and companions, John's year-round gifts to others are his helping hands. And with him standing at a healthy 6'7", you know those are some pretty big hands!
Whether he's starring in comedic music videos or producing music of his own, John's is a man about giving himself to others. This, as the MeloTel Team is well aware, is a big part of what has helped his company become the ever-growing success that it is. He thinks with a customer-first mentality. So MeloTel's customers get quite the royal treatment.
If it's one thing that John has instilled within each member of the MeloTel staff, it's to remember that they too are customers. "How would you like to be treated by the companies that you do business with?" he'll often ask. The answer helps to make up the way that MeloTel team members focus on treating their customers.
The new MeloTel Cloud Hosted Phone Services is one clear-cut example of that. Knowing that customers want optimum value for the services that they pay for, John has created a business phone service plan that is superior both in VoIP technology and price. And as part of his own gift to customers, the birthday boy is offering FREE reviews of current phone bills from other providers.
There is no obligation to switch to MeloTel if you allow one of our representatives to review your current business phone bills with you. However, they will be happy to inform you of just how much money MeloTel would be able to save you. Again, MeloTel is a company that thinks about the customer first. John wouldn't have it any other way.
So happy birthday big guy! We hope it's your best one yet. And we're hoping that all of you will celebrate with MeloTel this year and in the years ahead by making the switch. Obviously, we want your business. It would be quite the present for John. But, in return, his gift to you is top-notch value through incomparable phone services and unbeatable prices. Now where's that cake?