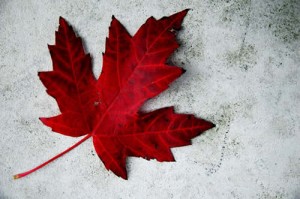 Happy Canada Day everyone! We just wanted to take this time out to let all of our clients know that we truly appreciate your business and we hope your day off today will truly be an enjoyable one. And how could it not? This year, with Canada Day falling on a Friday, a long weekend has been created for us!
Of course, there will be no mail today. But then again, we have been forced to become used to that over the past month. Let's all hope that by next week, Canada Post will have literally sorted out all of our mail so we can truly get back to business. In the meantime, we do request your patience as we are exercising the same trait in waiting for your payments.
Today, we're not going to think about the Canada Post strike. Instead, we're going to just think about Canada. We truly are very fortunate to live in a country that is home to so many unique and talented people. Sure…people continually think of hockey, snow, beer and maple syrup when it comes to this great land. But we all know that it is so much more than that!
Having the pleasure of working closely with business owners all across Canada, we are very well aware, here at MeloTel, that our country is home to some of the most earnest and hard-working entrepreneurs in the world. It's that determined entrepreneurial spirit, in fact, that has helped the nation's economy rebound so greatly from the recession.
One of the things that we take great pride in, here at MeloTel, is the fact that we are literally able to connect Canadians to each other on a daily basis. Through our VoIP phone services, we are able to have people who live on opposite ends of our vast nation communicate like next door neighbours.
Sometimes we just have to stop and think about the marvel that is the telecommunications network. Don't forget, by the way, that the telephone was invented by Alexander Graham Bell – a (Scottish-born) Canadian! Of course, there are many other great Canadians that we could list off. But that would take all day!
Instead, we'd like to honour you great Canadians – the friends, clients and colleagues that make up the extended MeloTel family. We are well aware that without all of you, we would not be able to function as a leading telephone company. And that wouldn't leave us with much to celebrate this long weekend. Although, of course, there's always a reason to celebrate being Canadian!