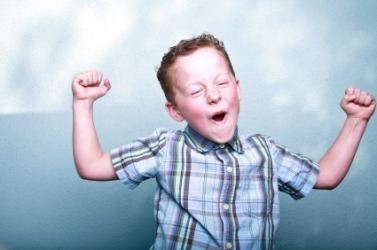 The fact that NHL hockey is returning this Saturday is creating quite the buzz around the water cooler these days. Canadians are especially excited as a winter without hockey is pretty much like a winter without snow. We'd prefer the latter ourselves. Nevertheless, there is snow on the ground – and soon, there will be hockey on the ice.
With so much anticipation being felt across the country for the pucks to drop this Saturday, one may be so inclined to think that the NHL lockout was actually good for business. Common sense will tell you that it wasn't – but it certainly has done a lot to whet the appetites of hockey fans everywhere. One thing is for sure, people are excited about the start of the season.
Getting people excited is major part of what helps for a business to be successful. When you create a buzz for your company, it gets people talking. And as we all should know, there's no better type of promotion than word-of-mouth promotion. What can you do to keep your clients interested? At MeloTel, we have what we think is a cool idea.
How about getting something for free? Many business owners often fail to see the big picture. They think that giving things away for free will lose them money. Sure, it will cost them something. But, in most cases, the excitement that you generate from freebies encourages customers to keep coming back, while recommending you to others.
At MeloTel, we have an all year-round offer of freebies. The most exciting, in our opinion, is the free voice ad. That's right! If you have a unique project that you think is so cool, it would look great on our portfolio, we'll go ahead and record it for you – for free! In case, you weren't already aware, MeloTel is home to some of Canada's finest vocalists.
Nadia Luna, who also doubles as MeloTel's Voice Talent Production Manager, is a shining example. For audio evidence, we encourage you to download the album she put together with our company President, John Meloche – an incredible voice talent in his own right. Daniel "Dan-e-o" Faraldo is also both an actor and a rapper. His latest single "Love Again", as part of the duo Perfeck Strangers, was released yesterday!
Where else are you going to find this combination of talent who is willing to utilize their amazing vocal skills for you – for free? Because some jobs are just too fun for us to turn down, we're willing to excite you to the point where you begin talking about MeloTel as you would the upcoming NHL hockey season – with a lot of excitement!
Contact voices@melotel.com and tell us why your voice ad is one that can help build our portfolio. The most interesting and fun suggestions we get will be the ones we choose to do for free. Now, that's something to get excited about isn't? For more information on other exciting products and services offered by MeloTel, call 1-888-MELOTEL.