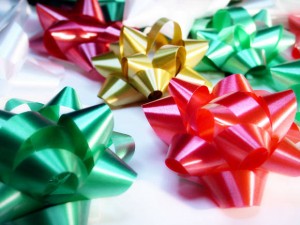 It can be argued that the staff, here at MeloTel, is generally in the gift-giving mood all year round. Just take Editor-In-Chief, Daniel Faraldo, for example. This past March, his group Perfeck Strangers released their debut album, Series Premiere, free to the world! Since then, numerous shows and a slew of music videos have helped the group capture the hearts of hip-hop fans everywhere.
Not be outdone, company President John Meloche, along with Voice Over Production Manager, Nadia Luna released an album of their own this fall. Entitled Uncle John's Holiday Hits 2012, this amazing Christmas compilation is also available for free download. The gift of music, evidently, is just MeloTel's thing. And that's because making people happy is the company's mission.
What's important when thinking about the concept of giving, of course, is the great feelings that it gives to those who are doing the receiving. Are there gifts that you can be giving your customers? It goes without saying that we are well into the season of giving by now. With December here, Christmas is just a few short weeks away. So there's no time to spare. Get into your generous mood today!
This doesn't have to cost you very much. But giving something away is certainly a great way to get your clients to keep you in their warmest thoughts well into the new year. Perhaps, you can offer free shipping for your goods throughout the holiday season. Maybe you can simply have free coffee and Christmas cookies available for clients who visit your place of business this month.
Sometimes, it's just the little things that count. And during December, your clients are most likely to notice it just that much more. As mentioned, giving something away for free can be free for you as well. Maybe it's your time that matters most to your clients. Perhaps, extending your hours of availability would be great way to treat your customers this holiday season.
Consider the fact that the hustle-and-bustle nature of the season will have most people unable to call during business hours anyways. Is there a way that you can offer your clients a return call or at least an email after hours to show that you can be depended on? Remember that putting smiles of faces should be at the top of your list of priorities. Again, this is a free way for you to give just a little bit more.
It's the thought that counts. At least, this is what we hear from people all of the time when talking about receiving gifts. Let your customers know that you are willing to go that extra mile to make them happy this Christmas season. At MeloTel, we'd like to remind our customers that we have more than just music to give away for free. Just take one look at our MeloTel Freebies to see what we're talking about.
Better yet, give us a call at 1-888-MELOTEL and let us know what we can do to put a smile on your face. As we've pointed out, it's our mission to make our customers happy. And there's no happier season than the holiday season that we are all about to embark on. Let us work with you on making this your happiest holiday season yet. Pass along this feeling to your customers, and you'll be happy for many months to come!