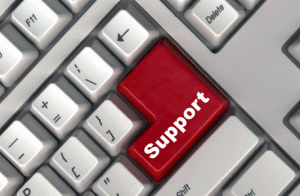 Don't you just hate it when you call up your telephone company and have to sit there through countless voice prompts? Sometimes after a litany of button pushing, you still have to sit there on hold listening to awful music, growing increasingly frustrated with the lack of help your getting. Sound familiar?
We hear this from customers who have happily switched to MeloTel all the time. Before switching, of course, poor customer service was at the top of their lists for "most annoying things about their phone companies". Well, having gone through such annoying voice prompts ourselves, we made it a priority to ensure that our customers have numerous ways of being helped…quickly!
Now, of course, you may call 1-888-MELOTEL at any time to receive speedy service from one of our reps. Friendly and efficient, our phone reps get on the phone quicker than any other phone company reps that we've tried calling. We promise your wait to speak to a real person will definitely not be a long one!
Also, you may streamline your support requests by utilizing our support ticket system. This useful online service allows you to take a unique ticket number which you may use to track the progress and responses to your inquiry over the internet. All you need is a valid email address. This system will also provide you with complete archives and history of all of your previous requests.
We even have the ability to help you right away with any of your computer issues. In fact, you can sit right in front of your computer at home or in your office and watch us go straight to work! It's called "TeamViewer" and all you would need to do to get started is to run the TeamViewer application and submit your connection details to support@melotel.com.
What we do then is literally take control over your computer from our own! Watch in amazement on your own computer screen as we navigate through the system to correct errors, fixing any of the problems you may have. It's a really cool and innovative way to get immediate help when you need it.
In a day and age when everyone seems to have to wait around for the service they need, MeloTel works to alleviate that concern with the speediest help available in the industry. It is our hope, of course, that you will experience years of unbeatable service with us. But if a problem were to ever occur that you need help with, you know that it will be addressed quickly and effectively.