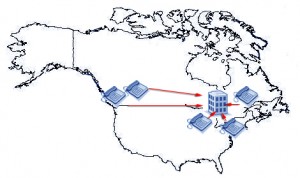 At MeloTel, we proudly work with a client base made up of people just like us – business owners. And with this commonality comes a certain understanding. We know what it's like to run a small business, so we are directly in tune with the needs and concerns of our clients. For most of us, thinking of achieving "big and better" things is a daily routine.
This is why we do our best to remain as innovative as possible, here at MeloTel. The way we figure it, the more forward-thinking we are, the more it will help our customers move their own companies forward! Not all businesses focus their energies towards a local customer base. As you can imagine, many enjoy client bases made up of people all over Canada.
So here's how MeloTel helps such companies keep in better contact. Are you looking to have a greater presence in places where you can't physically be yourself? Our cloud hosted telephone services give you the ability to have a local phone number in places where you are not local!
What does that mean? Well, let's say you operate a business in Vancouver, British Columbia, but you would like to increase your client base in Toronto. MeloTel can hook you up with your very own 416 area code phone number! Of course, it works the opposite way too!
In Toronto and want to do business in Vancouver? Get yourself a 604 area code phone number through MeloTel! Your number will direct callers right to you without having them know that you're not in town. Having a local number in areas of the country where you can't be yourself will truly allow your company to offer national appeal to its customers.
And here's the best part – there is NO additional cost for you to enjoy this service! All you would need to do is add an additional phone number to your account and begin giving it out for people to call. The rates you pay will be exactly the same as what you are currently paying for your business telephone services.
At MeloTel, we are always looking for ways to better serve you. Better yet, we make it our mission to continuously make our clients happy by making their businesses better. For more information on how to get your company a local number in a non-local area, give us a call at 1-888-MELOTEL.