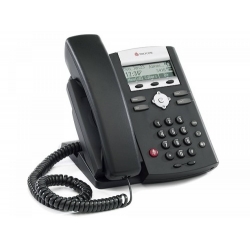 At MeloTel, we strive to provide the absolute best products and customer service possible. Now, if you're one of our clients or one of our regular blog readers, you already know that. But, of course, we're never ones to just take for granted that our client base is satisfied. We believe in continually finding new ways to make our customers happy.
And what makes customers happier than incredible savings? MeloTel is happy to announce an awesome discount on one of our most popular telephone products. The Polycom IP 331 phone is definitely one that you want for your office. Among its many features is a full-duplex IEEE 1329 Type 1-compliant speakerphone that is made with Polycom's legendary Acoustic Clarity Technology.
This great phone, which delivers excellent sound quality and enables noise-free and echo-free conversations, usually sells for $139.99. But until the end of June, the Polycom IP 331 is just $99.99! That's a $40 savings! As well, when you order through our website, you will get FREE shipping! Just $99.99 plus HST will have this awesome telephone delivered to your door.
Get your orders in quickly, because this price will only be available until June 30. There is also a limit of 40 phones per customers. The Polycom IP 331 sets the standard for business telephones. It allows for traditional features such as call hold, park, pick-up, transfer and three-way local conferencing. But it also provides more advanced features including shared call/bridged line appearance and distinctive call treatment.
As well, your new phone is designed to make installation, configuration and upgrades super easy! The standard base of the Polycom IP 331 can be reversed to become a wall mount, so there's no need for a separate accessory. You will also get up to two lines with to two calls per line, "Menu" and "Dial" keys, two volume control keys, dedicated hold, headset and hands-free keys and many other amazing features.
For more information about this phone and any other products that are found in the MeloTel Supply Shop, feel free to give us a call at 1-888-MELOTEL. We make it one of our most important missions to provide top-of-the-line VoIP equipment and services to our customers. There's no need for importing and waiting forever to get the products you need.
We make ordering your products a hassle-free experience. Give us one opportunity, and we'll give you the happiness that we strive to provide for all of our customers. Remember, you get $40 off and FREE shipping of the Polycom IP 331 telephone until the end of June! We look forward to hearing from you, and hooking you up soon!