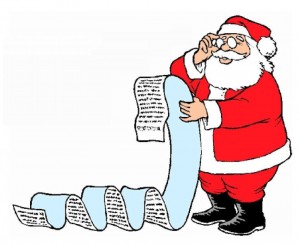 Just in case you couldn't already tell, the MeloTel Team is pretty pumped about the upcoming holidays. With Christmas just over a week away, it's a bit hard to contain our excitement. But that doesn't mean that we aren't still here to serve our great customers up until the big day. In fact, we'd like to go so far as saying that we're on call to make all of your Christmas wishes come true!
"I just wish companies would stand behind what they say they'd do," says many a customer that we come across. It's listening intently to our clients that has helped MeloTel become the people-pleasing company that it is. And that's why we've listened to you – not unlike Santa Claus with a kid on his lap – to bring you all that you ask for this Christmas.
So we've compiled a wish list based on what we hear our customers making mention of more than anything else all year round. We'll be checking it once, and checking it twice to make sure that we help you have the happiest of holidays! If there's anything you'd like to add to this list, we'd be happy to hear it in the week ahead.
Accessibility. If this is on your wish list, look no further than the MeloTel contact list. It may not mean much to list our phone number, email address and fax number. But we've also included a "Live Chat" feature on our site to allow you to get instantaneous service from a live representative any time during our business hours. When you need us, we are there for you.
Top-Notch Service. Our Quality of Service Guarantee is a gift that we plan to keep on giving year in and year out. We want nothing more than to make each and every one of our clients feel confident that they are working with the right company. Our 100% satisfaction guarantee ensures that you don't pay a penny for a service that you're not happy with. So our job is to guarantee that you are happy!
Amazing Features. Over the past several years – 2012 included – we have developed an incredible range of services that are carried out by some of the most talented people in our industry – as well as other industries. In addition to VoIP telephone services and equipment, MeloTel is also your go-to destination for website design, business logos, voiceover ads, blogging and even commercial jingles!
Our staff is comprised of incredible graphic design artists, creative writers, sultry singers, amazing actors and even renown rappers! MeloTel has truly become a one-stop shop for business owners of all kinds all throughout Canada. Our team is basically one big collective Santa Claus – and there are a lot of goodies in our big collective gift bag!
Dedication. We are always working on ways to improve our service to our customers. And with that comes a listening ear that we are not only keeping open for the holidays. We encourage you to give us a call at 1-888-MELOTEL to let us know what we can do to help you improve your business. Our hope is to make 2013 your happiest year yet!