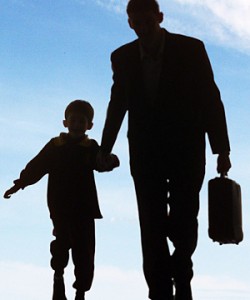 Happy Family Day Canada! Our MeloTel offices will be observing the holiday today, but will be back in business bright and early tomorrow morning. But that doesn't mean that the MeloTel Blog is going to take a day off! In fact, we'd like to celebrate Family Day by discussing ways in which you and your family can run a business together!
There are many family businesses out there. But just because a business is run by a family doesn't mean that it's easier and more fun. In fact, many business owners have told us that it's harder to do with business with family members because of the risk of hurting these deeply-rooted relationships. So what are some ways that entrepreneurs can maintain successful family businesses and families at the same time?
On Entrepreneur.com, Karin Price Mueller writes about the various ways in which family-owned businesses can avoid the traditional pitfalls that generally come with the territory. She reveals five "must-dos" for family businesses to follow so that they remain strong as both companies and family units.
Create a hierarchy. There must be a chain of command that entails specific job descriptions. Mueller writes that positions within the business must be clearly defined based on skill as opposed to other factors such as age or gender. If not, confusion can be created and arguments may ensue. It's important for non-family members to know exactly who to answer to as well.
Communicate. Isn't this often heralded as the most important aspect of any relationship? To avoid frustration and resentment, company news must be passed on to family partners on a regular basis. Schedule meetings, suggests Mueller, making sure that all necessary members of the team are properly informed about business affairs. This allows everyone to provide feedback, voice concerns and offer suggestions.
Set compensation rules. Money is often at the centre of most conflicts within business. Not letting money break up relationships within the family structure is key. Mueller insists that you have a compensation plan that clearly outlines salary amounts. The payment ranges should be determined by the respective job descriptions regardless of one's role in the family.
Establish a welcome plan. Your family may have members who are not yet eligible for the work force. But once they become of age, it will be important to determine how they will enter the business. Don't simply hire someone because he or she is a family member. Encourage interested parties to gain experience that is related to your industry before become a key cog in the wheel.
Have a succession plan. Writes Mueller: "You may plan to stay with your business until the day you die, and maybe you will. You need a succession plan to make sure your business will survive after you're gone–something too many businesses fail to do." Be sure to plan how your business will live on long after you do, and hopefully the business will carry on the family name for generations to come!