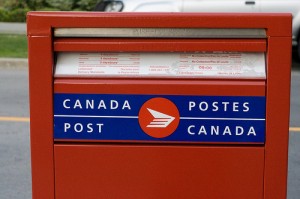 Well, it looks as if Canada Post is finally headed back to work today. And that's a huge relief for both consumers and owners of small businesses alike. At MeloTel, we are well aware of the havoc that the Canada Post strike has caused for many of our customers over the past month.
Believe it or not, many costumers still prefer to mail payments via cheque. In addition, to maintain a paper trail, some clients also like to have their invoices sent to them in the mail. Needless to say, this month's postage strike made it difficult for both invoices and payments to arrive on time.
Now being on top of our game when it comes to modern technology, MeloTel has always offered our clients paperless ways to both receive and provide information or payments. We'd like to take this time to remind our clients that even though Canada Post is finally up and running again, your mail will still be delayed…likely for weeks.
Evidently, there is a backlog of mail that needs to be delivered so it's anyone's guess when you will be receiving the mail that you should have received weeks ago. It's also anyone's guess as to how long it will take Canada Post to get all caught up. Remember that your payments have due dates regardless of when you receive your invoice informing you of them.
To avoid this problem in the future, we suggest that you take advantage of those paperless methods we mentioned. That way, if Canada Post ever goes on strike again (who knows, right?) you won't have to worry about missing any invoices or payments. Send a quick email to billing@melotel.com to start receiving your invoices online.
For those who prefer to keep a hard copy, you can always go ahead and print one out at home. It's both cheaper and quicker. Feel free to give us a call at 1-888-MELOTEL to also discuss ways that you can make your payments online as well. We know that there are some people out there that are skeptical of this process, but we promise it's more painless than you think.
Running a small business ourselves, we share your frustration with Canada Post's strike this month. We're confident, however, that we'll be able to work together in ensuring that the delay of our mail doesn't hamper our business relationships any further. As always, we enjoy working with our clients and eagerly await the opportunity to build more business relationships throughout the country. Don't worry, MeloTel doesn't ever go on strike!