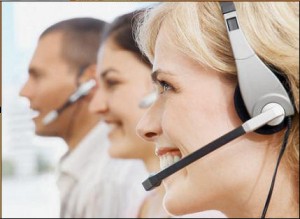 Believe it or not, telemarketing is among the most effective ways to get the word out about your business. What quicker way to put yourself in direct contact with your clients than to call them? It would be physically impossible to meet all of them face to face within the same time span that it takes to call them, anyway!
And, yes, while telemarketing sometimes comes with a bad rap, don't assume that every call you make will result in a hang up. Telemarketing has had proven success in developing business relationships that last a life time. The key though is to ensure that your call centre has a functioning, easy-to-use and effective dialing system.
Here is yet another reason why MeloTel is your best friend. Our uniquely designed "DaFeeder" program helps us to be a top choice telecommunications company in Canada. Complete with e-mail and fax services, "DaFeeder" is among the most efficient systems in any call centre. We've designed a special layout and dialing program that easily allows your phone reps to dial and transfer clients at the click of a button. Our business phone services are truly top notch.
The automatic dialer allows your reps to effortlessly travel to any place in the country by having leads pop up one call after the other. Complete with all of the pertinent information about the client, your rep will always be prepared to properly address the party being called. Just as importantly, "DaFeeder" allows you to track the dates and times of each phone call.
Our recording system keeps each call logged for the purposes of feedback and training. So you will be able to listen back to any call at any time. But just as cool is the "monitor whisper" feature. In many call centres, trainers and supervisors listen as their reps make calls in order to provide help where needed. This feature allows you to listen in to the call and offer assistance at the same time.
You will be able to "whisper" tips and advice to your rep during the call without being heard by the client! Cool, huh? Let's not forget the system's call report feature. You will have access to statistical sheets that show how many dials have been made by each of your reps and how long each call is, in addition to other important details.
Don't forget that with each call being recorded, you can easily make reference to any incident that may require tips and feedback. Our system allows you to effectively determine the level of productivity for each and every one of your reps, helping you to provide assistance whenever necessary.
MeloTel offers an array of features that assists call centres in increasing both their productivity and profitability. We look forward to speaking to you further about getting your call centre off the ground and to the next level. Be sure to contact us soon!