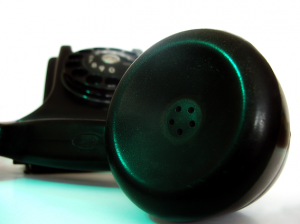 Trust is a huge part of any relationship. You've likely heard this many times as it is true for both personal and business connections. One of the most important ways that a person can establish trust is to simply follow through on whatever promises he or she has made. This seems simple enough, right? However, people tend to lose trust by missing out on handling the simplest of tasks.
Take returning a phone call, for example. This seems like a very easy thing to do. But, all too often, people get caught up in all their daily goings-on that they either forget or neglect to call back those who have left them messages. When this happens, you end up potentially losing an important connection. In some cases, it can even be taken as a sign of disrespect.
"I remember this one company that I used to do business with," shared one of our newest clients last week, "I would always have to leave a message because I could never get anyone on the phone. It always took at least a week minimum for me to get a call back. It then got to the point where I would have to keep calling them because they wouldn't call me back. I couldn't stand to do business with them anymore."
This encounter certainly appears to be an extreme example. But the point still remains. It is important to return each and every phone call, email and text message you receive in a timely manner. Never let it be lost on you that there are options out there for your customers. If you are not calling them back, another business is bound to do so in your place.
At MeloTel, we make it a point to be great communicators. We do all we can to ensure that our clients either get a representative on the phone during their first call or that they get their messages returned almost immediately. Time is of the essence, as they say. And we know that when our customers call, they expect expeditious assistance. As far as we're concerned, they don't deserve anything less.
"From my observation, whenever there has been issues with the phone lines and the sales manager has needed to get in touch with MeloTel, the problem has been sorted out very fast and efficiently," said Imprezzio Marketing's Colan Nielsen in our first-ever Client Spotlight blog last week, "We're never left hanging for any extended period of time. We feel like we're considered a priority."
One of the ways that MeloTel likes to ensure our clients that they are our priorities is to have our representatives available to speak with them during off hours. We provide 24/7 technical support even during holidays. In addition, we also have a number of ways for our clients to contact us to make getting in touch as convenient as possible. As always, they can call 1-888-MELOTEL.
But they can also use the "Live Chat" feature for instant access to assistance on our website. Those who prefer emailing can do so at support@melotel.com or they can fill out a ticket on our Contact page. The bottom line is that MeloTel will do what it takes to work to earn your trust. And we know that it all starts with being good communicators. We look forward to speaking with you soon!