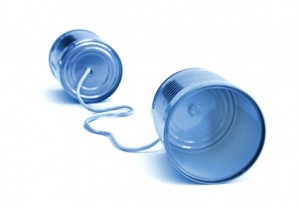 You've probably heard the phrase "communication is key". This statement – completely true – is one of those idioms that is near and dear to the heart of many a successful businessperson. This is because they are aware that without keeping your clients in the loop, they may be lost!
Once, while at a friend's house, I noticed a list of business practices that he had placed on his fridge. One particular point on that list stuck out to me. It read simply, "Return all texts and voice messages." I remember thinking that this was a pretty basic piece of advice that should be a no-brainer to understand.
Having worked with a number of different individuals who did NOT follow this tip over the years, I have come to realize just how important it is. When doing business with your customers, you'll want to make sure that they never feel that it is difficult to communicate with you. This is why, at MeloTel, we make it our mission to contact all of our clients within 24 hours of receiving a message.
Consider how appreciative you feel when your texts and voice messages are promptly returned. Making sure your customers can always count on you is a definite way to maintain their business for years to come. Thankfully, MeloTel is able to provide you with a top-notch phone service that will always keep you connected to those who matter to you most.
There are a number of unique services that come as part of what we call "MeloTel Cloud Hosted Phone Services". Many of them will help to ensure that you are never out of touch with your most important clients. The "Basic Features" include "Call Forwarding" which allows you to forward calls to wherever you are when you're not at your desk.
"Call Pickup" lets you pick up a call that is ringing at other extension. So when an employee is away, you can grab his or her call and not even have to leave your own desk! "Call Transfer", of course, gets your calls quickly transferred over to the appropriate extension with ease.
Savvy business owners really enjoy our "Advance Cloud Features" as well. "WatchBuddy" is an awesome feature that allows you to monitor the status of other users. This way, you will know who is on the phone at what time. "FollowMe" is really cool. A call can come to your cell phone, home phone and office phone all at the exact same time. No way to miss that!
Be sure to check out our "Business Phone Services" page to learn more about all of the features that MeloTel offers as part of its unique "Cloud Hosted Phone Services" package. Never be out of touch with your clients. That way, you'll never be out of business!