At MeloTel, we have the distinct pleasure of providing our services to some of the most hard working, forward-thinking and uniquely competitive entrepreneurs on the planet. Through the various relationships that we've developed over the years, we have learned quite a bit about the wonderful talents that exist in the business world. More than just talent, however, a business owner's down-to-earth, good hearted nature is what makes us enjoy the relationship all the more.
This is definitely the case with Steve and Bonnita Calhoun, who are the owners of Stellar Signs & Graphics. The West Palm Beach, Florida based company boasts owners who are not only immensely skilled in their field of creating top-of-the-line signage, but they're among the most awesome people we know! Steve and Bonnita are two of MeloTel's biggest supporters. So we're only too happy to shine a well deserved spotlight their way.
Founded in 2011, Stellar Signs & Graphics specializes in producing all kinds of unique signage. Vehicle wraps, cut vinyl lettering, store front and window graphics, office wall graphics and murals, building monuments signage, channel lettering, banners and way finding signage are listed among their top-selling products. They are widely known for creating images that incorporate stunning colour and amazing clarity.
Using state-of-the-art equipment and eco-friendly water based latex inks, Stellar Signs & Graphics is able to produce large format print images of the highest quality possible. With a business this sensational, it's not surprising that they are one of the fastest-growing and widely-respected companies in Florida. Of course, it wasn't easy for them to attain that reputation right away. Naturally, they had to promote their brand online – just as all businesses do.
But before beginning their relationship with MeloTel, there were some issues with getting their company website up and running to their satisfaction. Bonnita shared this story in a testimonial that we proudly showcase on the MeloTel website home page. "After two failed attempts with two other web design companies we were stuck to a web page that didn't showcase what we did," she recalls.
"We were looking to create a colorful and eye catching web site which MeloTel made happen. The team at MeloTel listened to what I wanted and took it to the next level. The website we have now far exceeds what I had expected and the whole process was seamless. Thank you John for everything you and your company did." And all we can say is "thank you" in return. And we're especially thankful to Steve and Bonnita Calhoun for our new MeloTel signage!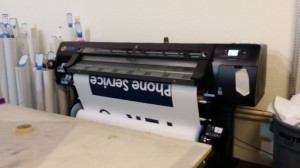 We were quite excited to see, on the Stellar Signs & Graphics Facebook page the other day, that a specially-designed giant MeloTel sign was being printed and prepared for shipping our way! You just can't ask for better support and appreciation than that. We look forward to displaying this great new sign in our newly renovated and furnished Markham, Ontario-based office. We know it'll look awesome!
You can find a lot of information about Stellar Signs & Graphics online. But we certainly recommend that you check out their website directly. After all, the MeloTel Web Design Services team created it! As well, if you are in the West Palm Beach, Florida area, don't hesitate to call either Steve or Bonnita at 561-721-6060. They will not only provide you with greatest signage you can find – but with the type of service that great relationships are built from.