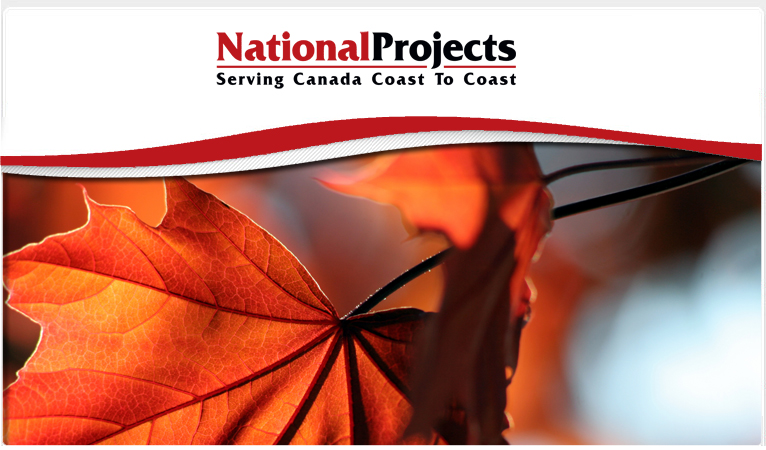 Are you a Canadian business owner? Do you operate in the retail or commercial sector? Chances are that since your company's inception, you've required some kind of assistance with service, maintenance and project management. Going forward, you should look no further than National Projects. Founded in 2009, this company is comprised of a team that has over 22 years of construction and project management experience.
MeloTel is only too proud to shine this week's Client Spotlight on National Projects – yet another one of our great clients. Owner and Project Manager, Fouad Shuhaiber believes that providing all of Canada with the greatest possible value is at the heart of his company's mission. He achieves this through providing his clients with consistent and fair pricing, exceptional knowledge of his field and top-notch quality work.
"Any time you need anything done to your store, we can do it, all across Canada," insists Fouad. Being able to reach out to the entire nation, however, wouldn't be entirely possible without the working partnership between National Projects and MeloTel. For the past couple of years, Foaud's company has utilized MeloTel's Commercial Phone Services, Website Design Services and Service & Maintenance Plans.
Having clients located all over Canada, it's important for National Projects to be able to stay in constant touch – without having to overspend. MeloTel's cloud hosted phone services ensure that no bill is too big and that no call is unclear. Of course, keeping up with appearances is a big deal too. The MeloTel-designed National Projects website was created keeping the company's insistence upon excellence and dependable service in mind.
MeloTel's Service & Maintenance Plan, however, is what has really come in handy in recent months, says Fouad. In fact, working with MeloTel has helped to showcase President John Meloche's dedication to his own clients. Having now worked with John personally, Foaud shared a recent encounter that helped to highlight MeloTel's own insistence upon providing top-level service.
"I have issues every month," explained Foaud, "For example, my printer broke down and I needed a printer very badly. John recommended what printer I should get. He came here, set it up, hooked it up to all the computers and made sure the scanners were working. He made sure everything was working perfectly."
It hasn't gone unnoticed at National Projects that MeloTel is company that is willling to go above and beyond the call of duty to assist its clients. More importantly to Foaud, however, is the level of customer service that MeloTel provides. Noticeably, there is a significant difference between getting assistance from MeloTel and receiving help from the bigger telecom companies.
"(My previous provider) drives me crazy," admits Foaud, "They have all kinds of hidden fees. There's no customer service. Wait times are very long on the phone and so on. There's no one trying to hold on to the customer." At MeloTel, it is most definitely important to us that we not only hold on to our customers but that we grow our relationships with them.
We're thankful to have developed such a wonderful relationship with such an amazing company in National Projects. For all of your service, maintenance and project management needs, you can give Fouad a call at 1-866-656-2126 extension 301.