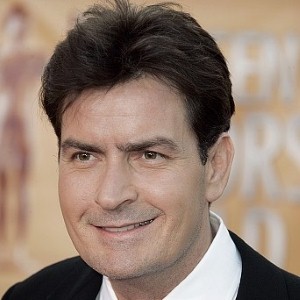 Last night, I had the unique pleasure – and yes, believe it or not, it was a pleasure – to take in the train wreck that was Charlie Sheen's Massey Hall performance. Bringing his "Violent Torpedo of Truth/Defeat is Not an Option" show (if you can call it that) to Toronto, the troubled actor was everything I expected him to be. He lived up to every expectation I had, and that is why I was so pleased with his "performance".
I'm one of few people who feel this way apparently, because many audience members exclaimed disappointment upon leaving Massey Hall. My thought was "what did they expect?" If you notice, in my first paragraph, I referred to Sheen's tour as a "train wreck". This is exactly what I expected so I wasn't disappointed in the least.
He's not a stand up comedian. He's not a rock star. He's not a rapper. And he's not a magician. So what exactly were people expecting to see when they shelled out their money to see Charlie Sheen in concert? (Thanks, by the way, to my friend who hooked up the free tickets!).
So, the way I see it…if you went to Charlie Sheen's show in Toronto last night and were upset by what you witnessed, it's because you walked in with the wrong expectations of what the show was supposed to be like. After being booed in his first performance in Detroit, Sheen changed up his show a bit.
Apparently, it wasn't much of a show at all and each "performance" has been enhanced a bit to improve upon his last one. By this point – the midway of his tour – Sheen's "Violent Torpedo of Truth/Defeat is Not an Option" performance is essentially a talk show. Last night, the Toronto audience had the benefit of having homegrown funnyman, Russell Peters introduce and host the event.
Many in attendance felt that Peters "stole the show". But that's what Peters does! He's a comedian. He's expected to make you laugh. Sheen spent most of the time answering questions, including those from audience members (many of which were pretty nonsensical – that was my main complaint!).
Rob Salem of The Toronto Star wasn't very impressed with the show. But he did point out, however, that Sheen did something very classy. A Toronto woman who lost her husband two years ago watched DVDs of Sheen's sitcom "Two And A Half Men" as a way to get over her grief.
She arrived at the show with a box of her husband's ashes (a bit creepy if you ask me) and Charlie Sheen paid tribute to her husband by toasting him on stage. Hey, the guy can't be all that bad. A lot of people did show up to see him, after all. So love him or hate him…it does appear as if he's "winning"!