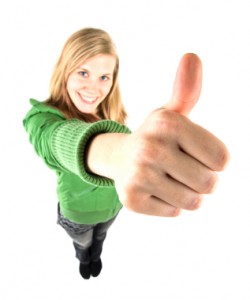 It may not surprise you to know that, here at MeloTel, there is a lot of emphasis placed on satisfaction. Hence, our Quality of Service Guarantee. It means a lot to us to know that we have not only done a good job, but that we've made our clients happy. Believe it or not, as much as we know that we must run a business, the smiles we leave on the faces of our customers make what we do worth it.
At the end of the day, we are very confident that making customers not just satisfied, but happy, is what will make them our customers for the long haul. It's about the relationships that we develop. We don't see our clients as numbers, but as real people. And just like ourselves, we know that they need to feel that they are being listened to and respected.
On StartupNation.com, it is explained that it is your service – not necessarily your price – that is the most significant reason that a customer will work with you. The website recalls a BIGresearch survey that found that customers would actually travel farther "for the right combination of price, quality and customer service."
So what really makes a customer satisfied? The website lists off five main points. We'd like to take a look at those points and, as always, add our spin to them. Keep in mind that you can always call us up at 1-888-MELOTEL and get an example for yourself of the type of top-notch service MeloTel provides!
Knowledgeable and Available Staff. According to StartupNation.com, customers need to know that they can receive knowledgeable assistance when making a buying decision. They place a high value on getting accurate information and prefer to be assisted by employees who know exactly what they are talking about.
It's a good thing we're VoIP experts, here at MeloTel. Furthermore, we employ staff members who are extremely talented in their respective fields. Just like a gourmet recipe, we want to make sure that our service staff is made up of only the finest ingredients! And we know that our customers expect nothing less.
Friendly People. What good is knowledgeable service if the person giving it to you isn't polite and courteous? Customers want people who are as friendly as they are product-savvy. As we alluded to earlier, your customers should feel valued by you. So be nice! We'll continue to take a look at this topic in our next blog.