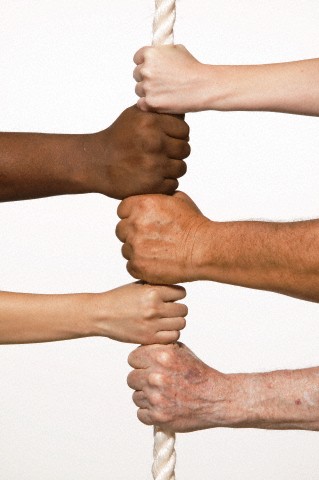 Sometimes there can be too many chefs in the kitchen. And this can be a bad thing only if every chef is attempting to cook the exact same meal. There are bound to be disagreements about the ingredients that should be used and how much of each ingredient should be included in the recipe. However, if each chef specialized in his or her own type of cuisine, you may just get the most productive and taste bud-tantalizing kitchen ever!
Is the analogy making sense yet? Being a good leader means surrounding yourself with leaders. It's nearly impossible for a business to function well if there is constant butting of heads within the office space. Yes, this is bound to happen. But it's important to outline specific roles so that there is a "boss" for each important skill set needed at your company.
At MeloTel, we are staffed with individuals from all walks of life, each owning a level of expertise in a specific field. This is what makes the MeloTel Team such a strong one. It's made up of several bosses who don't generally step on each other's toes. With everyone being given the respect they deserve when it comes to their skills, each team member is able to work with confidence.
It's no different than fielding a professional sports team. Each player must play his or her position, right? You can't expect one player to handle all positions. And each teammate must be able to support the other team members with their respective roles. Some of your team members may be analytical thinkers. Good with numbers, very handy with computers and technical-minded are their traits.
Other members of your team may be more creative thinkers. Good with words, articulate and outgoing are their traits. Combine these different individuals on one team and watch how strong your team will become. The key, as a business owner, is to give your staff members the freedom to shine. Micro-managing and standing over shoulders really isn't going to help anyone.
At MeloTel, we have different bosses. (Just don't tell company President, John Meloche that!). Actually, John has designed his company in such a way that he insists upon having experts make up his staff. It's no fluke that Administrative Executive, Carlos Paz is not only John's right-hand man, but an incredible computer whiz as well. The MeloTel office runs as smoothly as it does thanks to Carlos.
Do you need your website regularly updated? If you read our last blog, you'll understand why the answer to this question should always be "yes". Perhaps, you want to grow your search engine hits, better communicate with your target market and increase your social media presence. If so, Daniel Faraldo is your man. As MeloTel's Editor-In-Chief, he is arguably MeloTel's most creative team member.
Maybe you need to add a sparkling new "voice" to your brand. Need a radio ad, catchy jingle or even the perfect recorded voice operator to direct the flow of your phone traffic? Then you need Nadia Luna. Our Voice Over Production manager sings, acts and clearly knows her way around a microphone. Let us get one of our bosses working for you. Call 1-888-MELOTEL today!