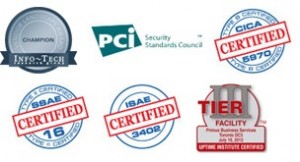 Seriously. It's as if "The Jeffersons" worked for MeloTel – because we're truly moving on up! (But not necessarily to the east side.) MeloTel is extremely excited to announce the moving of its data centre from 151 Front St. in Toronto (which is one of Canada's most popular data centres) to a brand new state-of-the-art Primus data centre: Toronto DC3. And this is no ordinary facility!
Canada's 1st Tier III Design & Construction Certified date centre, our new facility is the equivalent of the top floor penthouse suite inhabited by Donald Trump! (In the world of data storage, of course.) And it just so happens that MeloTel is one of the very first tenants to take residency in this new Primus facility. This is the biggest thing to happen to MeloTel since we signed our incorporation papers!
In case you haven't noticed just yet, we are super excited about this move! In fact, we've already received shipments of our brand new equipment that will be housed at the Toronto DC3. But what does this mean for our customers? Should they be as excited as we are? In a word: yep! The new Primus centre will provide numerous benefits in the form of sustainability and reliability for all of our clients.
How so? Well, first of all, let's discuss the site itself. Toronto DC3 is a 50,000 square foot, concrete and steel framed facility located in a modern and easily accessible location. It is highly secure, offering advanced backup and redundancies for power and security. This means that MeloTel clients are guaranteed that their systems will remain safely running all of the time.
The Toronto DC3 environment is clean, safe and controlled. This makes it as reliable and efficient as can be. Using state-of-the-art fire suppression technology and high-density cooling systems, our new and improved data centre guarantees climate control. Not to mention, the centre provides the ultimate protection of your technology assets.
How's this for security? 24/7 onsite guards, a concrete and bulletproof glass entrance as well as biometric readers and video surveillance all make sure that access to and within the facility is very tightly controlled. Toronto DC3 may as well be called a "power centre" too! It has the highest per square foot density of power source than any other data centre in the country!
With 10MW of upgradeable power, our new Primus home, guarantees 100% uptime! Your high-density servers will never fail again! And what about connectivity? As the Primus website explains, the "multi-homed network, with extensive Peering, Tier I Transit providers and multiple diverse carrier and fibre paths is backed by a fully redundant MPLS network with QoS enabled low latency router and switching architecture."
What can we say? MeloTel is truly moving on up! We have always been committed to offering our clients top-notch products and services with reliable customer service. Moving our data centre to the brand new Toronto DC3 facility will guarantee 100% uptime performance in keeping with our commitments to you!