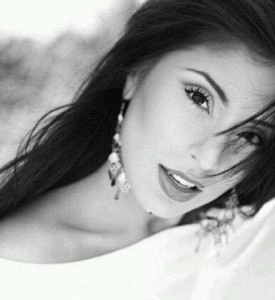 At MeloTel, we feel that it's fair to brag that we have the most diverse team of beauty and brains in the business. We've been able to showcase the brains part thus far. But now we have proof of our beauty as well! But please don't assume that Nadia Luna is just another pretty face. This brilliant vocal artist also happens to be the backbone of our Voice Over Production Department.
Born in Argentina and moving to Canada as a toddler, Nadia was destined to share her voice with the world. "I've always been interested in the performing arts," explains Nadia, "When I was little, I was always learning lines from movies, acting them out on my own." Citing Bette Midler as a chief inspiration in her love for the silver screen, Nadia reveals that her film heroine also inspired her to sing.
Nadia, you see, is blessed with a glorious singing voice. With influences like the late and eternally great Michael Jackson and Whitney Houston, Nadia's love for live performing is rooted in a desire to touch the world. "She had the voice of an angel," she says of Houston, another singer/actor who inspired Nadia to sing with passion.
"Watching these artists, you learn to put passion into what you say or how you sing," she explains, "Every time you sing a song, you're telling a story, you're supposed to feel it. When you're acting, you must go through the emotions. There are different ways of placing meaning behind words." It's no wonder this bilingual, part-time beautician has become so versatile – making her the perfect choice for MeloTel's Voice Over Production Account Manager.
In addition to being the go-to selection for recording outgoing messages, telephone voice prompts, commercial jingles and radio spots, Nadia also heads up the department. If it's not Nadia's sultry voice you're looking for, she makes it her job to find the voice you need. Her team, of course, is comprised of many talented voice actors, both male and female. It is this diversity that is so intrinsic to the MeloTel brand that helps set the company apart from others.
"Different clients will want different tones and different ways of saying things," she notes, "You have to be able to please clients." But what is the importance for a company to even have a voice? It's no different than a company having a face, says Nadia. All companies are represented by the first person that is seen by those walking through the front doors.
A warm and friendly voice can have the same impact on a person's first impression, points out the self-admitted fan of "Mr. Dressup". And like the children's show that fostered her love for getting dressed in different costumes as child, Nadia's passion to change things up and provide an array of different styles is what makes the MeloTel Voice Over Production Department so unique.
With Nadia's team, you have options. And considering that she's fluent in both English and Spanish, there is truly an array of voice over alternatives to choose from. However, it's the fact that MeloTel truly cares about its clients that best puts the brand in a class of its own. Like our customers, we too are clients who expect the best from the companies we do business with.
"We're like a family," says Nadia about the MeloTel Team, "And we all have different views based on how we have dealt with phone companies in the past. We know exactly what the people want. We work hard to make our clients happy. We're honest and we're very giving to the clients. They deserve the best, so that's what we provide." How could we not? We have Nadia on our team!