As we all now know, the Apple iPad is amazing and getting rave reviews across the planet. With all the features everyone has come to know and love, the one thing that it is lacking is a phone. This begs the question, will the VoIP apps from the app store function on this device? The short answer is "yes!". Allow me to show you how MeloTel can provide you with VoIP services using your iPad and iPhone and save money over your current cellular costs.
MeloTel offers Acrobits Softphone, the leading SIP VoIP phone for the iPad, iPhone and iPod Touch.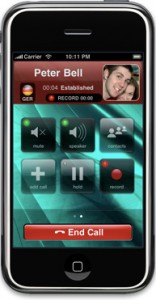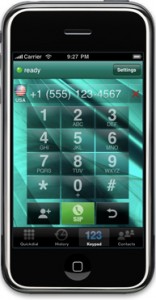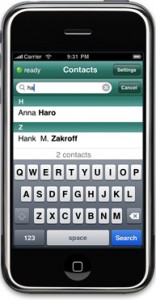 MeloTel Package Offer
Software Costs: $19.99/one time (includes software and phone service activation)
DID / Local Phone Number Extension: $12.99/monthly
Usage: 2.7¢/minute
Features: Voicemail with free email delivery, Online account management, Call forwarding with unique answering rules
Acrobits Softphone is the leading SIP VoIP Softphone for iPad, iPhone and iPod Touch. Remember, Acrobits Softphone is a SIP softphone, you must have an account with MeloTel to use with the softphone. If you don't already have one, contact us for possibilities.
Features
push notifications for incoming calls. You will receive a push notification on your iPad, iPhone and iPod Touch for incoming calls received when Acrobits Softphone is not running. Just tap answer to open the Softphone and accept the call.  iPod Touch users, remember to connect your iPod to power and set Auto-Lock to never to be sure you get all of your Push Notifications.
blue-tooth, now supported for iPhone OS 3.1
call recorder and player, seamlessly integrated into the call history
comfortable and super-smooth user interface, fine-tuned specially for the iPhone
full localization (currently english, french, german, italian, russian, spanish, czech, slovak languages)
very easy configuration
simultaneous registration of multiple SIP accounts, have multiple accounts signed in to receive incoming calls and switch the account used for outgoing calls without leaving the keypad
iPhone phone book integration. Easy to call anyone in your contacts via SIP
contacts search function, which searches in the contact name and also in phone numbers
add new contact to the iPhone phonebook
practical quick dial panel for dialing up to 12 contacts with just one tap of a finger
excellent sound quality, includes the G.711 and GSM for great quality over 3G networks
support for incoming calls
speakerphone support
detailed call history, with intelligent call grouping for an easy overview
If you're curious how MeloTel can transform your telecommunications and help you cut costs, contact us for possibilities.