We recognize that there are still five weeks to go until Christmas gets here. However, as we do every year, we'd like to announce MeloTel's holiday schedule with plenty of time before the holidays begin. Admittedly, the schedule is a little odd this year, since Christmas Day falls on a Wednesday. A middle-of-the-week holiday can wreak havoc on holiday scheduling. So please take a look at the holiday calendar below if you require any clarification about this announcement.
MeloTel's business hours will remain normal right up until Thursday, December 19th.
For the record, our standard operating hours are Monday to Thursday between the hours of 8:30 a.m. and 6:00 p.m. Eastern Standard Time, and Friday from 8:30 a.m. to 5:00 p.m. On Friday, December 20th, MeloTel will close at 2:00 p.m. EST in preparation for its annual Christmas party, which will be held later that night at David Duncan House in North York. (We'll get back to that momentarily!)
MeloTel will re-open for business on Monday, December 23rd between the hours of 8:30 a.m. and 5:00 p.m. ET. Then we'll begin our middle-of-the-week holiday celebrations! Our team will then be taking off the next three days which are Christmas Eve, Christmas Day and Boxing Day respectively. We will be back open on Friday, December 27th with regular hours between 8:30 a.m. and 5:00 p.m.
We will also open on Monday, December 30th between 8:30 a.m. and 5:00 p.m. and then close again for some more middle-of-the-week holiday fun. MeloTel will be closed on New Year's Eve and New Year's Day (a Tuesday and a Wednesday) and will be back open for our first day of operations in 2020 on Thursday, January 2nd. All business hours will be back to normal at that point.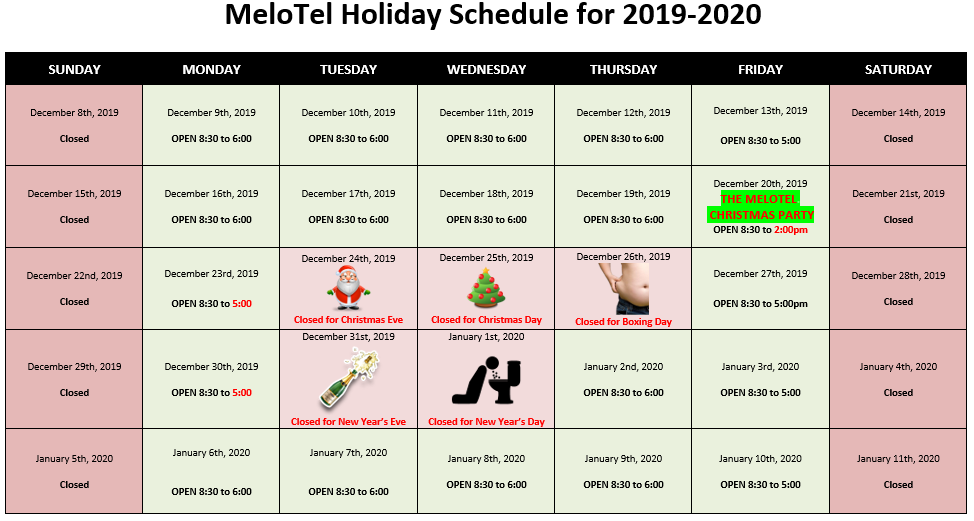 Did you get all that?
As mentioned, this year, we've been presented with somewhat of an odd holiday schedule. We wanted to offer our team its well-deserved time off to celebrate the holidays, but we also wanted to make sure we offered our customers as much access to our team as possible. Putting the needs of our customers at the top of our priority list is simply the MeloTel way, no matter what time of year it is.
We do, however, like to have a good time! And, anyone who knows MeloTel's CEO, John Meloche knows that the MeloTel Christmas party is always a great time. Held annually at the David Duncan House – John's favourite restaurant – the yearly event is an incredible experience for everyone who attends.
This year, MeloTel will be celebrating its 11th anniversary!
And there was simply no reason to celebrate it anywhere else. As its website informs, the David Duncan House offers an "unforgettable experience that combines exceptionally prepared authentic steak and seafood inside one of Toronto's most historic landmarks. Nestled within 4.25 acres of land in Toronto, guests can choose to dine on our scenic outdoor patio with seating for up to 120 people, inside the restored Gothic Victorian inspired dining space or reserve one of our five chic private rooms."
Naturally, our Christmas party will be held indoors…and we can't wait! Of course, there is plenty of time between now and then. So, for information about any and all of our cloud-hosted services, please don't hesitate to call us at 1-888-MELOTEL or use the Live Chat feature on our website!