Melo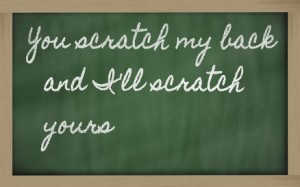 Tel is in the business of working with other businesses. So, it comes naturally to us to believe in the whole "you scratch my back and I'll scratch yours" policy. We speak to business owners on a daily basis and are well aware of the tough tasks that many of them face. In trying to promote one's company, a business owner needs a team. Sure, he or she must build it from within – but outside help should always be welcome.
This is why MeloTel offers its clients the ability to be promoted on our very own website. We have a number of testimonials from clients that appear on our homepage. Each testimonial also serves a direct link to each of the companies that wished to share their kind words about MeloTel. It's the least we could do. Furthering that, we are in the midst of continuing our "Client Spotlight" series in the MeloTel Blog.
Conceived nearly a year ago, the "Client Spotlight" is simply our way of scratching the backs of our awesome clients. The way we see it, our success depends on their success. So the more we can do to highlight how amazing our clients are, the better things will be for both parties. Really – is there any downside to collaborating with other business owners to help each other's brands? We think not.
Attract More Leads. Perhaps, the most obvious benefit to the proverbial business back-scratching is the fact that it is bound to earn your company more leads. The simple act of placing another business' website link on your site in exchange for your website link on someone else's site is bound to send more traffic your way eventually. Especially when the other company is not a competitor, it only makes sense to help it out.
Build More Trust. The very act of sharing information about another company is generally received warmly by consumers. It shows that you're not afraid to be honest about the fact that you can't solve every problem that a customer has. Sometimes, all a customer needs is a good old recommendation from a trusted source. When you're that trusted source, it does wonders for your business.
Provide More Value. As a business owner, your job is to make your customers' lives easy. You will develop brand loyalty when your clients know that you provide them with more than what you sell. In other words, your helpful advice, friendly recommendations and random words of wisdom can all add to your product or service as key reasons that people should do business with you.
Create More Buzz. When people recommend you in exchange for your recommendations, more consumers are going to find about you. It's a simple fact. By partnering with other businesses, you have the opportunity to become more popular in areas you would otherwise never even visit. This is especially important in today's online world where everyone likes to research businesses online.
Would you like your back scratched? We must admit that, here at MeloTel, getting our back scratched feels great. But we do love doing some scratching ourselves. For any and all of MeloTel's clients, we'd like to offer you the opportunity to be featured in a future "Client Spotlight" blog. Feel free to let us know that you're interested by giving us a call at 1-888-MELOTEL.