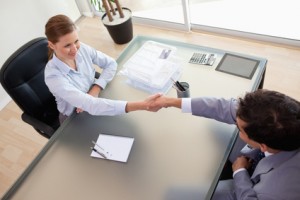 At MeloTel, we take great pride in the team that we've assembled. Each of our team members share a common need to make their customers their priorities. Making our clients happy goes at the top of our collective list of priorities. Of course, there are many traits that make up the ideal team member. But it always starts with an excellent first impression. We're hoping that you might just be able to make that excellent impression on us as we're looking to add to our team!
Please have a look at our Career Opportunities page as we've recently posted a couple of career opportunities that you just may be interested in. We're looking for people who are as professional as they are personable. Being part of the MeloTel team means that you exhibit as much dedication to your clients as you do your fellow team members. We're like a family here at MeloTel. And if you're looking to join the family, we'd like to offer you a few suggestions.
Have a strong handshake. Okay, so maybe a hearty handshake isn't the most important thing in the world. But when you show up for your job interview – no matter where you may be looking for a job – your handshake will generally make up a big part of your first impression. A flimsy handshake may make you appear to have a lack of confidence or even interest in the position. Offering a firm shake, on the other hand, will start you off on the right foot.
Don't just answer questions, ask them. Serious candidates will show that they are truly interested in the job position by asking a number of questions about it. Be sure to wait for the appropriate time in the interview to chime in. Often, you'll be asked if you have any questions. You should probably have a list of a few questions ready so that you're prepared for when the opportunity comes your way. After all, you'll want to know as much about the job as you can to determine if it's the right one for you.
Get some practice. Have a friend of family member ask you some questions in a mock interview before you actually go to your real interview. He or she will be able to help you with the ways in which you phrase your responses. A good old test run can't hurt. As well, be sure to go to interviews to jobs that you don't necessarily believe you will take. That way, you get some experience with the whole interview process.
Have a positive attitude. Often, it's not just the answers to the questions that you give, but it's the way in which you answer those questions. Are you enthusiastic? Is there energy and genuine excitement in your voice? Remember that your interviewer isn't just looking for someone who is capable of doing the job. He or she is looking for someone who is pleasant to work with and a pleasure to be around in general. Be that person!
Tell a story. Your interview doesn't have to be all question and answer. Your interviewer may simply begin the whole thing by saying "tell me a little bit about yourself". Now, you don't want to overdo it. But you should have an interesting story to tell that should be completed within a minute or two. There must be something funny or intriguing about your life story. Be sure to keep it light. You don't want to deliver bad news on day one.
Be respectful. Naturally, you want to show your interviewer a good deal of respect. But to gain it, you'll need to show others respect as well. And that includes your former employers. Bad mouthing any business, no matter what type of experience you have had with it, is not a way to impress a prospective new employer. Show that you can be professional under all circumstances. Respect always goes both ways. Here's a good way to get it.
For more information on MeloTel's Career Opportunities, call 1-888-MELOTEL. We hope to meet you for an interview soon. Good luck!