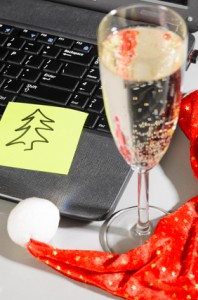 A couple of weeks ago, we blogged about ways that your business could spread around the holiday cheer. And while we focused on the ways in which you can make your customers happy, it should never be forgotten that your staff members are integral parts of your company's success. With that said, it's important to do all you can to keep the spirits of your employees up as we head into the holidays.
With the holiday season in full swing, you'll want your team to be at its best, rather than feeling like it may be time to mail it in early. In today's blog, we'll outline a few ways that you can spread the holiday cheer around your office in an effort to get the best out of your staff members. It will make for a happy holiday season for all in involved – and that includes you too!
Acknowedge your leaders. To be honest, there are standout employees at every company. The ones who are working the hardest in your office deserve the recognition. Perhaps, it's time to offer them special gifts to reward them for jobs well done. Hopefully, it will inspire the other members of your team to put forth efforts that will see them get rewarded as well. Be sure to let them know they are all eligible for such recognition.
Make time to party! If you haven't yet planned your company Christmas party, you're likely working with a number of workers who may be feeling a bit down in the dumps. Employees look forward to these holiday events as they present opportunities to unwind with co-workers without worrying about deadlines, projects and tasks. You may be surprised at how well you get to know people that you thought you already knew about.
Parties are great for team building as well. Yours may just help for you to have a stronger new year as a result. Christmas parties also give you the opportunity to network. Perhaps, you can invite other industry professionals, friends and colleagues who may help you to expand the reach of your brand, while having fun at the same time. No matter what, the planning of a Christmas party is bound to be met with joyous anticipation.
Organize a charitable contribution. Set up a toy or food drive. Maybe do both! Encourage your employees to come to work with non-perishable food items, toys and even clothing for those that are less fortunate. The spirit of giving is best felt when you are giving to those you don't even know – but would appreciate the generosity the most. It will say a lot about your character as well as shine a favourable light on your business.
Dress up for the occasion. Who says you can't come to work dressed like Santa Claus? Whether you want to be the man himself or being an elf is more your thing, coming to work and surprising your team as a holly, jolly leader of the company is bound to put smiles on faces that will last a long time. Not only will it build rapport in a way you haven't before, but it will send your team off into the new year with a greater appreciation of their boss.
Take it easy. Try to knock out as much of a workload as you can in the coming weeks so that your team can catch a bit of a break in December. Let them know that you really want to hit and exceed your targets so that they may be able to enjoy a pre-holiday holiday. For any advice on how MeloTel may be able to assist you in making your life easier this holiday season, please call 1-888-MELOTEL.