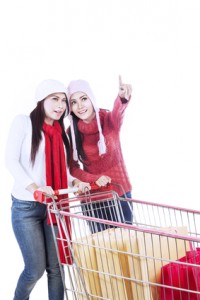 With the holiday shopping season well underway, your business is likely getting more opportunities than ever to meet new customers. It's important that you take advantage of these opportunities to develop strong relationships with people who may end up being supporters of your brand for a long time. It should never be assumed that you automatically have someone's repeat business. You've got to work for it.
At MeloTel, we consistently work towards growing the relationships that we have with our clients. It's important to us that they are kept happy. We not only want them to enjoy our products and services, but we want them to enjoy the experience of doing business with MeloTel. There are numerous ways that this can be accomplished. So in the interest of practicing what we preach, we figured that in today's blog, we'll share our ideas on how you can keep your customers well after the holidays.
Service With A Smile. It sounds so simple. It sounds so obvious. But during the holiday shopping rush, it can be easy to get frustrated. We've all probably already run into sales associates who are a little short-tempered and flustered with the amount of customers asking them questions. Try not to be one of them. This holiday season provides you with the perfect time to show that your brand is a cut above the rest.
Make Good On Your Promises. If you've advertised something at a special discount and it is out of stock by the time your customers come into your store, offer them rain checks. You should be doing all you can to ensure that your inventory is well stocked for the holidays. Once the holidays are done, customers won't likely be rushing back into your store for the same items. Make them happy now or they won't be back at all.
Provide Incentives To Come Back. Encourage your customers to sign up for a contest and offer prizes that will be won before Christmas and after New Year's. The objective, of course, is to get them revisiting you over and over again. This concept also provides you with the opportunity to gather contact information that you can use to create your emailing lists.
Offer Exclusive Benefits. Speaking of that emailing list, it's a great way to build a strong following for your brand. When people sign up for a contest and provide their contact information, they should be rewarded. This doesn't mean bombarding them with spam. It means offering them exclusive discounts and giving them the first opportunities to take advantage of them. Let your list know they are part of an "exclusive club".
Make Your Policies Clear. Many customers get frustrated when they take a look at their receipts post-purchase only to discover that it was a final sale. It's important that you make your return policies crystal clear. This is especially important during the holidays when so many purchases get returned. This would also be in your best interests as you will want people back in your store in the new year.
At MeloTel, we'd love to have your business in the new year. We are offering new and inventive ways to boost your business, in hopes that will continue to help us boost our own. Let's work together to make that happen! In our last blog, we launched a new initiative to do more blogging and social media posting for our clients. For more information, call us at 1-888-MELOTEL.