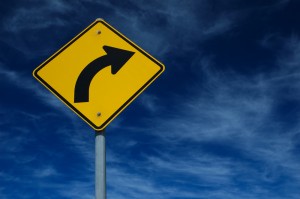 We live in a world where access to information is as simple as a few clicks of a mouse. In fact, no mouse is truly needed. In the palms of our hands each day are devices that once were used strictly to make phone calls. Today, these mini-computers give us access to the world through the internet and such social media sites as Facebook and Twitter. The bottom line is that we want things fast!
Not only do people want this fast, but they want quality as well. They're used to being disappointed by businesses that are operationally slow and have low service standards. So it's important to be able to provide the supply for such a demand for greatness. How is your business answering such a demanding call? These days, it pays to be ahead of the curve. And there's a number of ways to pull this off.
Be Visible. Your website is important. Remember those handy little devices we spoke of earlier? Think of those smart phones as tools that your business can utilize. Not only should your website be professionally constructed and maintained, but it should provide online users with easy access to contacting you through social media as well. The more user-friendly and functional your site is, the better.
Be Unique. Most company owners practice the same-old, so-called tried-and-true methods of presenting their businesses to the public. Maybe it's time you try a little something different. Create a personal jingle of your very own to use as hold music when your customers call you. You'd be surprised at how big a reaction you may get to such a small and unique feature.
Be Accessible. These days, people like getting in touch and sharing their opinions and views on a variety of topics. You should be encouraging your customers to provide you with feedback that you're genuinely willing to accept. This is why social media have become so popular. People want their voices to be heard. Perhaps, it's time to open your business up to new ways of communicating with its clients.
Be Professional. At the end of the day, you have to look the part if you want to be taken seriously. Many business owners focus hard on providing excellent products and services. And that's great. But is the public accepting you as the top-notch professional that you are? You may need an image overhaul. That includes redesigning your place of business and sprucing up your logo.
Be Interesting. These days, doing good business isn't all about doing business. Huh? Growing your company has more to do with communication than it does advertising. Make sure the content on your website and social media pages is engaging. Write interesting blogs, ask questions, leave comments, post pictures and encourage feedback. It's today's best way to get a buzz going about your brand.
In case you weren't already aware, MeloTel can help you to achieve all of the above. Our Web Design Services, Voice Talent Production, SHOUTcast Hosting, Business Logo Design and Bloggers For Hire services can all help to make your business the most visible, unique, accessible, professional and interesting company in existence. Give us a call at 1-888-MELOTEL and we'll help you get ahead of the curve!