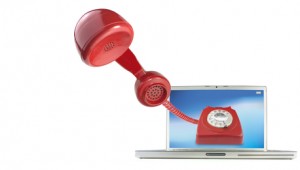 MeloTel is Canada's Hosted Company. And we're quite proud to announce ourselves as such! See, when we first started, we referred to ourselves as a telephone company. That's how we got our start. Today, we offer a wide variety of Hosted and Professional Services that help for our clients to both run their businesses like well-oiled machines while strongly promoting them as well.
But among those many services remain our great VoIP Telephone Features. The benefits are many while the costs are low. VoIP is becoming more and more widely known as a telecommunications option that is both convenient and economical. In fact, there are a ton of reasons to go VoIP instead of using your traditional phone system. In today's blog, we'll outline our top five.
1. Lower Costs. Using VoIP technology allows you to make long distance calls without paying long distance prices. You're not using a traditional phone line so the rates that you may be used to simply won't apply. Instead, you're making phone calls "over the cloud". In other words, you're using your internet connection, allowing you to make calls to locations all over the world without racking up a big bill.
2. Flexibility. VoIP gives you the ability to make phone calls while utilizing the internet for a variety of other purposes. Emailing and faxing can be accomplished simultaneously with your phone calls. As well, with one single network, you will be able to store all of your data. VoIP allows you to manage your business more effectively by giving your team the means to do more.
3. Productivity. VoIP technology works wonders in the world of multi-tasking. It allows your employees to work interruption-free. Your team members will be able to conduct virtual meetings, attach files and share information through video conferencing. Not to mention, the voice clarity provided by VoIP technology is remarkable. It has come a long way since its inception when dropped calls were the norm.
4. Mobility. VoIP allows you to make calls no matter where you are. As long as you can log in to your internet connection, you can dial up whoever you like! When you use wireless VoIP technology, you can make calls from pretty much any location that offers Wi-Fi. Head out to a cafeteria, book store, coffee shop, hotel or airport and it works just the same!
5. Easy Installation. Upgrading your traditional phone system to a VoIP telephone system is a lot easier than you may think. In fact, it doesn't require a technical expert (although we'd like to think we know what we're doing, here at MeloTel). Additional cabling isn't necessary. VoIP systems help for you to eliminate clutter and other fire hazards in your office space.
At MeloTel, we go over and above to ensure that our clients are getting the most out of their VoIP telephone services. We offer a FREE phone as part of their service subscriptions! Meanwhile, other providers will neglect to mention the cost of the phones as well as their set up charges. Give MeloTel a call at 1-888-MELOTEL to take advantage of our All Inclusive Phone Offer today!