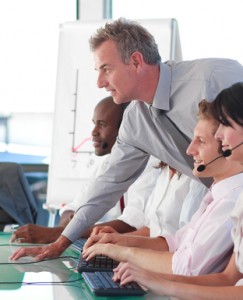 Numerous businesses throughout Canada require the use of a telephone to conduct their day-to-day operations. Now, that may seem like a ridiculously silly sentence considering that all businesses need to use phones, don't they? Well, of course. But some businesses function primarily by employing call centre workers to reach out and communicate with a large number of people on a daily basis.
There are some key factors that help to determine the difference between a functional, productive call centre, and one that simply isn't getting the job done. Call centre work is, by no means, easy. But it certainly doesn't have to be all that difficult either. At MeloTel, we have many years of working with call centre businesses. And we know exactly how to help them run like well-oiled machines.
Promote Positive Attitudes. As a call centre manager, it is your job to help your staff start off its day right. Begin each day with an affable morning meeting. Don't feel that you have to make it strictly-business related. In fact, the lighter it is, the better. Share some jokes. Detail a funny story that took place over the weekend. The key is to put your team members into good moods so they can start their days motivated to work hard.
Provide Feedback. It's really important to be approachable. That means you want your staff members discussing with you any problems or concerns that they may be having. And while you'll always want to offer your assistance, be sure to be accepting of assistance as well. In other words, take feedback seriously. Listen to your staff members and take into account what will help them do better jobs each day.
Reward Progress. Call centres provide the perfect environments to drum up friendly competition. Many call centre managers divide their staff up into various teams that compete for weekly prizes. There's nothing like a desirable incentive to help your team members be that much more productive. The idea that they are "playing a game" also helps for the work atmosphere to be that much more enjoyable.
Provide Proper Training. A good call centre provides its staff members with adequate training so that they may properly communicate the company's voice. That means that there is a certain attitude that should be heard through the phone that is representative of your brand. If professionalism, friendliness and dependability are important traits of your business, make sure each call centre employee knows how to make those traits shine.
Provide Quality Tools. You can have the best call centre employees in the world. But if they're using outdated technology, they will only be able to be so productive. In 2014, no call centre employee should have to manually dial a phone number and read a script off of a piece of paper. Such practices are considered "ancient" by today's standards. Your team and your business deserves better.
Get your call centre using DaFeeder. MeloTel provides this amazing web-based telemarketing software that allows for automatic campaign dialing and account management. It significantly helps your staff to save time and keep accurate notes about each and every call they make. It's time to rethink how you run your call centre. And MeloTel can help! For more information, call us today at 1-888-MELOTEL.