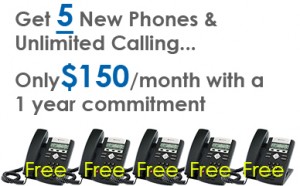 Business owners need all the help they can get to run their businesses. Naturally, it takes a lot of time and money to get a business off the ground. But once things are in order and doors become open for business, it's important to have long-lasting, dependable equipment that you can rely on. The last thing you want is to be working with devices that can't help you provide the excellent service you should be providing your clients.
At MeloTel, we recognize this dilemma. So we make sure to make things as easy as we can on our clients. Not too long ago, we introduced an incredible new offer of 5 Free Polycom phones to our new clients signing up for our VoIP Telephone Services. Today, we'd like to provide you with a little reminder of just how beneficial this offer can be for your brand.
1. Big Savings! By getting the 5 Polycom phones included free in this package, our clients will be saving upwards of $790! Most telecom providers don't mention to their customers that the telephones necessary to run their businesses are not included as part of their telephone services. With MeloTel, we're saving our clients money on the phones, their adapters and the shipping!
2. Unlimited Calling to 20+ Countries! Our clients are given the freedom to call locally or long distance in Canada. They may also call the United States and over twenty other countries using our VoIP telephone services. And this is all unlimited calling! Stop worrying about long distance charges and simply conduct business as you would if you were in the same room with your client.
3. No Outlay in Equipment or Setup Costs! When you sign up for this great offer, MeloTel will supply you with all of the phone hardware that you need. No long and tedious set-up process is necessary either. All of our phones are pre-configured so that you can use them straight out of the box. We also provide a life of service warranty so you need not worry about paying for any replacements.
4. One Fixed Monthly Cost of Only $150 a Month! With MeloTel, you won't have to worry about any fluctuating monthly bills. We provide our customers the peace of mind in knowing that no matter how many calls they make, they'll be paying the same low cost each and every month. Small and medium-sized business owners are often concerned about cash flow. Not necessary with this deal!
5. Benefits Galore! Sign up with MeloTel and you can still keep your existing phone number. Of course, you can also get a new one. You'll also get the benefit of unlimited agent to agent and branch to branch calling, an automated call attendant and voicemail to your email. As well, don't forget that you'll get toll free phone, email and chat technical support to help you with any issues.
All of these calling features are available for each extension, and you'll get free extension to extension calling no matter where you are. You'll get call reports, statistics and the ability to watch live call flows. You'll also get easy-to-manage Do Not Call list options as well as the option to add other phones and extensions. To order your All Inclusive 5 Phone Package, call 1-888-MELOTEL!