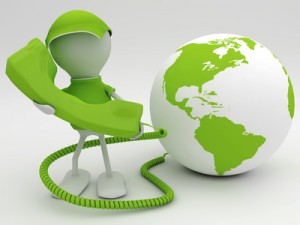 Christmas is almost here! So perhaps, it's the perfect time of year to provide your business with the type of gift that will launch it well into a new world of success this coming new year. While MeloTel has expanded to the point where it provides business owners across Canada with a multitude of products and services, the VoIP telephone services we provide have always been our bread and butter.
At least, this is how our company began. With a strong understanding of the wonderful benefits provided by VoIP technology, MeloTel was founded. VoIP quite simply is the way of the future. Too often, business owners are saddled with expenses that they could do without. And their telephone bills are right up there at the top of the heap when it comes to unnecessary costs.
That is not to say, of course, that telephones aren't needed. Of course they are! But the old school plug-your-phone-into-the-wall way of doing things – well yeah, it's time for that to go! In case you're not yet aware, VoIP technology greatly reduces the costs for equipment, phone lines, additional manpower and constant maintenance. Your business' voice traffic is all integrated into one network. It's all done "over the cloud".
Lower Costs. In other words, your internet connection replaces your phone line, thus eliminating massive long distance costs and charges for subscriptions and other usage. Take a look at your current phone bill. Would you be happier paying less each month while getting even more functionality out of your phone service? Of course you would. VoIP can provide that to you.
Mobility. Traditional phone lines provide you with a number that is assigned to a dedicated line. If you are moving office locations, you will generally have to go through the hassle of calling your service provider to get set up an entirely new line. This is not the case with VoIP. This technology provides you with the ability to use the same phone number from just about anywhere, provided you have IP connectivity.
Tons of Features. VoIP technology allows your phone system to provide you with a variety of incredible features. You can get set up with both local and toll free numbers, get voice mail sent to your email address and create an Automated Attendant Receptionist. You can also receive the Email 2 Fax feature, Call Routing, Music on Hold, Out of Office Options and many more.
No Boundaries. There are no geographical limits to your VoIP service. That means that even when you're on vacation, you can assure yourself of never missing an important phone call. There are no area or country codes that you are bound by when you subscribe to MeloTel's telephone services. VoIP allows your business phone number to travel with you wherever you go.
2014 will definitely be a year when your business technology will need to be taken to the next level. It will also be a year when you will want for your business to function with a lot more ease and with a lot less expense. MeloTel's VoIP telephone services can provide you with what you're looking for. Let's start your new year off right! For more information, please call us at 1-888-MELOTEL.