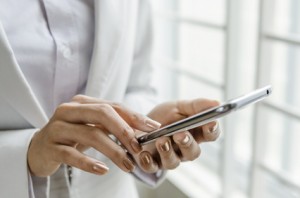 No matter what type of relationship you're in, one fact will always remain constant. Communication is key. Without out maintaining strong, open lines of communication, a relationship can easily crumble. As a business owner, there should be no doubt in your mind that the most important relationships you can have are the ones that exist between you and your customers.
Without them, you'd have no business to run. Think about how poor an impression you'd get about a company if you called it up, left a message and never had it returned. Or worse, you call up a business and receive bad customer service. These subpar representations of how to properly communicate would likely end your relationship with that business before it even started.
So how can you ensure that you're keeping the lines of communication constantly open with your clients? How can you make sure that you are maintaining strong relationships and making good impressions with each and every interaction you have with your customers? One way to guarantee yourself all of that is to have a multi-functional telephone system that provides you with everything you need.
Number Portability. When businesses move locations, their phone numbers generally have to change. This can make keeping in touch with your customers very difficult to do. Getting a system that allows you to move your service without having to change your existing number is the way things need to be done nowadays. Even if you move into an area where your old area code is not available, keeping the same number is imperative.
Toll Free Numbers. If you are doing business internationally, it pays to have a toll free number. You're practically guaranteeing yourself a major loss of business if you don't have one. With a toll free number starting with such digits as 800, 855, 866, 877 or 888, you can ensure that your client base can exist pretty much anywhere in North America. Don't lose out on business because you can only be called locally.
Email Features. Times have changed. People don't just communicate using the phone anymore. And, in fact, there are likely many times when you will be unable to come to the phone. That doesn't mean that you should miss out on important messages. An operating system that can save voicemails in your email inbox is a great way to ensure that you're reminded of who to keep in contact with.
Automated Attendants. Sure, you have voice mail. But do you really want it to be inundated with a variety of messages covering a range of topics and levels of importance? An auto-attendant that prompts callers to follow a particular menu will help for calls to be appropriately directed to the right departments depending on their nature. Giving your customers options allows for you to better address their needs in a quick manner.
As you can imagine, MeloTel provides all of its clients with all of the above mentioned services. Our Telephone Features and Commercial Telephone packages provide our clients with the absolute ideal ways to ensure that they are constantly keeping in touch. Our VoIP services are second to none. Learn more about them and get set up quickly and easily by calling us up at 1-888-MELOTEL.