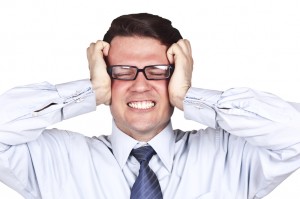 Here's a wild concept. Think of all of the things that you hate as a customer and don't do them to your customers. Sounds like a simple enough plan, right? But you may be surprised to find out how many big named businesses don't incorporate such an easy idea in their best practices. The telecom industry, for whatever reason, seems to be filled with companies who displease.
At MeloTel, we work each and every day at being a "people's company" by doing things that people truly appreciate. But perhaps, it's what we don't do that really pleases our customers. After all, many of our clients offer words of praise based on the fact that our company helps them to avoid problems bestowed upon them by their previous providers. So, with that we'd like to offer up a few tips in today's blog.
If you truly want to please your customers, there are a number of things that you should simply avoid at all costs. But avoiding this list of things to avoid will only sink your brand deeper into the "can't stand them" category. If you find that you're experiencing any of the following problems with your provider, you may want to consider making the switch to MeloTel.
1. Keep Your Customers Waiting. People hate being put on hold, let alone for long wait times. "The last time I called (my previous provider), the voice prompt told me that the hold time would be fifteen minutes!" explained one of our newest clients, "I didn't want to wait but felt that I had to as it was a pressing issue. I ended up waiting a total of 27 minutes. And I didn't get my problem resolved. Needless to say now, it was my last call to that company."
2. Hidden Charges. People hate having to pay for things that they didn't ask for. Often, big named telecom companies are blamed for throwing additional charges on accounts that weren't ordered by the client. "I'd see new charges like every other month," complained another one of our new clients, "I think they figured it would get lost in their convoluted billing system. It just made me cancel my account."
3. Overcharging. Many new Melotel clients have become MeloTel clients after learning about how much money they could save by making the switch. Not only does MeloTel offer five free phones with one of our special new offers, but our rates are the most affordable in our industry. Our clients enjoy incomparable customer service and great products at a fraction of their former costs.
4. Inaccurate Information. Want to really annoy your customers? Give them the wrong information. Then, when they call back to verify what they were told, be sure to provide them with information that is completely contrary to what the previous representatives told them. Various versions of this occurrence has been described to us by many a new client.
MeloTel is only too happy to take on new clients. If you don't believe the words of our clients, then see for yourself with no risk of losing any money. Our Quality of Service Guarantee assures you that if you are not satisfied with MeloTel's products and services, you may cancel within the first 30 days of opening an account. And you will get a full refund. At MeloTel, we avoid the flaws that make customers cry foul.